Reviews
JM Barrie's Peter Pan adapted by Will Brenton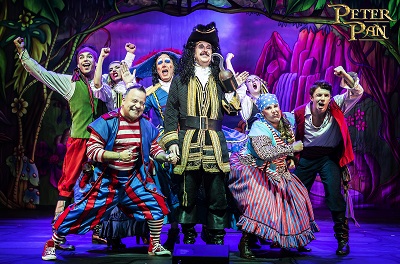 Review by: Paul Towers, 22/12/18
An Imagine Theatre production
DeMontfort Hall 15 December to 6 January 2019
"hugely entertaining family fun"
After the runaway success of Imagine Theatre's Beauty and The Beast last year at DeMontfort Hall they are back with Peter Pan.
This is a pantomime in the very best tradition; a hero, a villain, a dame and a comic.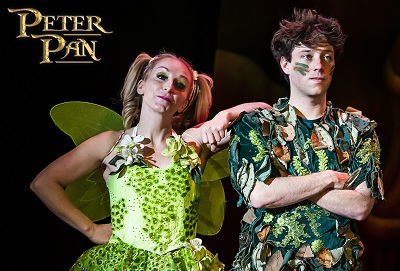 Back by popular demand are Leicester's very own Sam Bailey (Shoo) and Martin Ballard (Nanny McSmee). They are joined by Britain's Got Talent contestant Kev Orkian as Smee, Cat Sandion (well known from Cbeebies) and Coronation Street's Kevin Kennedy (Curly Watts for those with a long memory!) as Captain Hook at his moustache twirling best.
The juvenile leads are played by Andy Owens as Peter Pan, Kate Eaves as Wendy and Becky Burford as Tinkerbell.
I am sure we all know the story of Peter Pan, the boy who didn't grow up and enticed Wendy Darling and her brothers to Never Never Land where they joined forces with The Lost Boys and defeated dastardly Captain Hook and his pirates.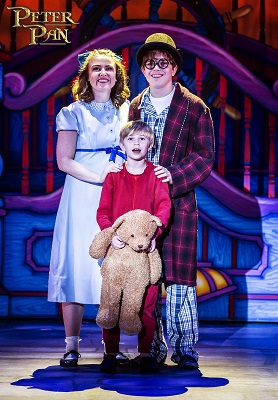 All the elements of traditional panto are here in abundance; daring do, sword fights, loads of flying. In between there is all the comedy we expect. The Dame, Martin Ballard, is a past master (mistress?) at getting the audience going in ever more outrageous frocks. Playing her son, Kev Orkian is an accomplished stand up comedian with acres of experience entertaining children of all ages with boundless energy and is a great comedy partner for Sam Bailey's Shoo, the ship's cook.
Lots of scene changes entail acres of backcloths and scenic elements, all of which are rolled on and off De Montfort Hall's ample stage into the cramped wings. On top of this there is the obligatory flying which Andy Owens has obviously mastered with lots of aerial gymnastics. And as with every great pantomime there are loads of songs, both current and old, shoe-horned in for all ages to join in with. S Club 7 and Steps are old favourites but this year's go-to show is The Greatest Showman.
This is hugely entertaining family fun as shown by the fact that the youngest audience members were still in nappies, as were some of the oldest!
Peter Pan runs at De Montfort Hall until 6 January. Best ticket availability are after Christmas
Paul Towers http://ptheatre.blogspot.co.uk/
Treasure Island adapted by Sandi Toksvig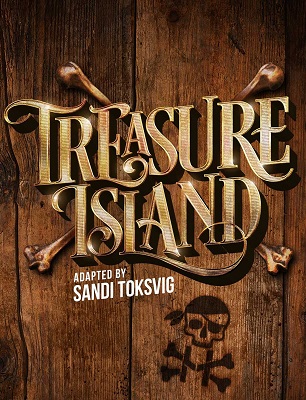 Review by: Paul Towers, 18/12/18
Lyrics by Jenifer Toksvig, Composer David Perkins, directed by Matthew Forbes
Leicester Haymarket Theatre 13 December to 6 January 2019
"liberally littered with puns and groan-worthy jokes"
Robert Louis Stevenson's book of Treasure Island has been done to death and is a staple of both professional and amateur companies up and down the country at this time of year. So it was with some trepidation that I ventured out on a cold, wet and windy December evening to see Haymarket Theatre's first in-house production since its refurb.
Sandi Toksvig has taken liberal inspiration from The Play That Goes Wrong and set this version in the final dress rehearsal of a cash strapped production in an unspecified regional theatre. This is a genius way of staging a swashbuckling yarn of pirates, high seas and tropical islands with very little scenery or costumes. It also allows for lots of sly digs at less than professional productions. There are loads of local references, not only to Leicester but also to the fact that the Haymarket was dark for 10+ years.
The script bounces deliciously between the main story and the back stage tribulations and deficiencies with the wit that you would expect from Ms Toksvig. Liberally littered with puns and groan-worthy jokes there is plenty for both adults and children to laugh at.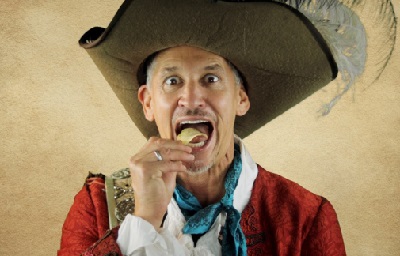 The main cast of 10 adults is supplemented by local children working in three teams on different nights.
I would love to give credit to the various performers in their roles but there is no hint in the programme of who plays what. What I can say for sure is that the two puppets representing the parrot and Ben Gunn were great fun and Gary Lineker's cameo on video elicited a knowing nod to Leicester.
This is an ideal show for all ages with original songs, dance routines and lots of laughs. Ideal festive fun for everyone.
Treasure Island is on at Haymarket Theatre until 6 January 2019
Paul Towers: http://ptheatre.blogspot.co.uk/
The Cat in the Hat by Dr Seuss, adapted by Katie Mitchell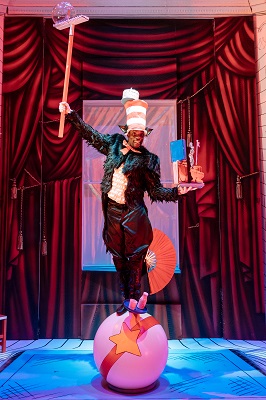 Review by: Paul Towers, 14 December 2018
A Curve & Rose Theatre, Kingston co-production
Curve 8 December 2018 – 12 January 2019 and then touring
"The Cat in the Hat IS all that!"
Dr Seuss is America's answer to Roald Dahl, writing anarchic, funny books for young readers. In Dr Seuss' case he aims to encourage pre-schoolchildren to read by using big bright pictures and simple verses and prose.
This musical play, originally produced by The National Theatre, is a lively mix of songs, dances and magic tricks all told in a fun, simplistic way to appeal to all ages from 2 years upwards. Starting with Sam Angell as Boy bouncing on stage and exhorting the audience to join in and sing along with him, this afternoon's pretty full house of mainly pre-schoolers was immediately playing along. And then when Mellissa Lowe as his sister Sally joined him and they had a water fight with SuperSoakers over our heads, the squeals of delight and excitement reached fever pitch.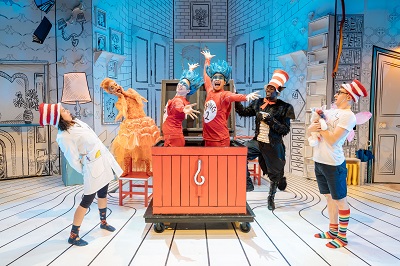 The story, such as it is, involves Sally and her brother being bored on a rainy afternoon. Conjuring up the legendary Cat in the Hat (Nana Amoo-Gottfired) mayhem ensues as he introduces Thing 1 and Thing 2 (Celia Francis and Robert Penny) into the mix. All three of them display great circus skills, not surprising as the show is created in conjunction with The National Centre for Circus Acts. While the two Things bounce around, up and over the set like hyperactive acrobats, The Cat is the magical ringmaster of the chaos.
The music of Tasha Taylor Johnson was, at times, a little loud but all the actors were amplified so nothing was missed. Charley Magalit as Fish had the most beautiful singing voice, especially as half the time she was encased in a Zorb ball rolling around the stage. The set by Isla Shaw was designed to look like a line drawing waiting to be coloured in and had several surprises built into it.
This is a short show, two 30 minute halves with a 20 minute interval, so is ideal for youngsters with short attention spans. Several of the children today were obviously on the spectrum and were wearing muffling headphones but this didn't seem to detract from their enjoyment of the performance.
With three shows a day on most show days this is a short, snappy festive treat for even the youngest fans. There are especially relaxed performances on Saturday 22nd December and Sunday 6 January
All in all The Cat in the Hat IS all that!
Paul Towers http://ptheatre.blogspot.co.uk/
White Christmas By Irving Berlin (lyrics & music) and David Ives & Paul Blake (book)
Review by: Paul Towers, 14/12/18
Made at Curve, directed by Nikolai Foster, choreographed by Stephen Mears
Curve 6 December to 13 January 2019
"a sure fire festive winner."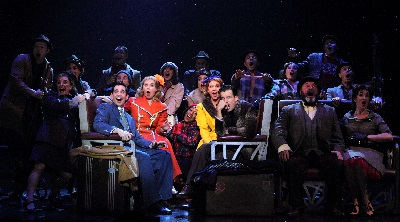 There was a full house for tonight's Press Night of Irving Berlin's White Christmas on a suitably frosty Friday. Like Gershwin's Crazy For You earlier this year an Irving Berlin score is very distinctive and a guaranteed toe tapper, especially in the expert hands of Curve's Nikolai Foster. Combine that with the set design skills of Michael Taylor and Stephen Mears' distinctive choreography and Curve has a sure fire festive winner.
White Christmas is the 1950's version of a jukebox musical, a series of songs (usually by a single songwriter) gathered together with a tenuous story. Except in the old movies there was a little more attention given to the story.
White Christmas is the story of a couple of ex soldiers who form a double act singing and dancing after the war. They are at a club one night and spot a singing sister act, The Sisters. Bob Wallace (Danny Mac, who still can't keep his clothes on!) is immediately smitten with Betty Haynes (Emma Williams) while Phil Davis (Dan Burton) falls for Judy Haynes. In true musical fashion the path of true love doesn't run smooth. They end up in a remote ski resort (unusually devoid of snow this particular year) and decide to put on a show to try and attract punters to the resort. Of course, in the end, it all works out and the boys pair up with the girls and live happily ever after as the snow finally falls over the mountainside and the entire cast sing White Christmas.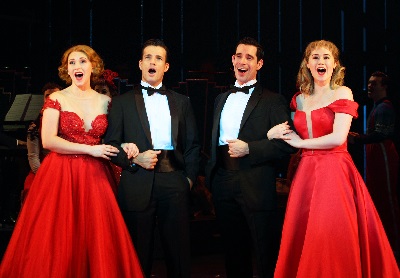 This is a hugely festive, feel-good show with an eye catching number of costumes and a huge set that slides in and out, up and down making full use of Curve's extensive capabilities. The cast of 27 plus 13 Curve Young Company performers fill the stage with typically extravagant dance routines which are obviously influenced by Bob Fosse, Gower Champion, Busby Berkley and other great Broadway choreographers.
Some of the best lines belong to Wendy Mae Brown as Martha Watson who plays the concierge of the ski lodge. She also has a belter of a singing voice.
Judging by tonight's full house there will be very few tickets before Christmas. Try for the New Year.
Full details available at www.curveonline.co.uk
Paul Towers: http://ptheatre.blogspot.co.uk/
Now. Here. This - Book by Hunter Bell and Susan Blackwell, and Music and Lyrics by Jeff Bowen
Review by: Paul Towers, 06 December 2018
Four Wheeled Theatre production
Upstairs @ The Western, 5th December to 22nd December
"alternately comic and sad"
Last week I dropped into the dress rehearsal of Now. Here. This and was impressed. Tonight I saw the first public performance in the theatre. Yesterday afternoon there had been an accessible performance downstairs in the back bar but this was the first in the theatre.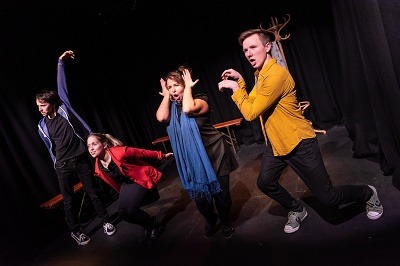 Now. Here. This. is the tale of four friends from the four corners of America who meet up in a Natural History Museum and reminisce about their childhoods and lives. Taken in parallel with the story of evolution their various journeys to adulthood prove to be just as eventful as any species leaving the prehistoric swamps to crawl and fly.
This show is primarily a musical with narrative inbetween. Alternately comic and sad their various lives lead them, eventually, to a commonly bonded friendship circle of support and love.
Sam Hannah, Simon Butler-Little, Kathryn Lenthall and Charlotte-Emily Bond play many parts and sing up a storm with often just a scarf or a coat to change character.
This play is especially appropriate for Upstairs at The Western's intimate performance space as you feel very close to the story.
If you are looking for be entertained without all the tinsel and baubles then this is a perfect evening for you.
Performances are scheduled in the upstairs theatre on the following dates: 13th, 14th, 15th, 20th, 21st and 22nd at 7.30pm. Additionally there will be a promenade performances in the downstairs bar especially for those with mobility issues who can't manage the stairs on 12th December at 2pm. There will also be relaxed performances upstairs in the theatre on 15th and 22nd at 2pm. Full details on the website.
Paul Towers: http://ptheatre.blogspot.co.uk/
Upstairs at The Western: http://upstairsatthewestern.com/
Now. Here. This by Hunter Bell & Susan Blackwell, music & lyrics by Jeff Bowen
Four Wheeled Theatre production
Upstairs @ The Western, 5th December to 22nd December
Show Profile by: Paul Towers, 29 November 2018
"Now. Here. This. - a taste of what is to come."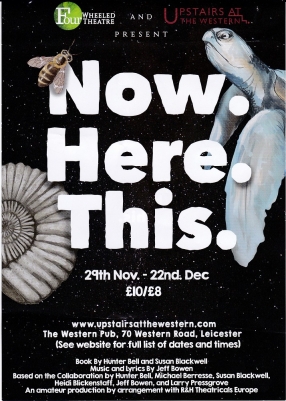 Upstairs at The Western has taken a huge gamble on staging a single show over the festive period.
Now. Here. This. is a musical from 2012 written OKvery much under the influence of Stephen Sondheim for a tight cast of four.
This is not a review of the show (that will follow next week) but rather a taste of what is to come.
The show is wholly new with original music and lyrics, many of them very witty.
The cast comprise Sam Hannah, Simon Butler-Little, Catherine Lenthall and Charlotte-Emily Bond. The boys have worked with Four Wheel Theatre before but the girls are new to the company.
With a live keyboard accompanied by a backing track this story is based around four friends at a natural history museum in America.
Innovatively the performances are scheduled in the upstairs theatre on the following dates: 6th, 7th, 13th, 14th, 15th, 20th, 21st and 22nd at 7.30pm. Additionally there will be promenade performances in the downstairs bar especially for those with mobility issues who can't manage the stairs on 5th and 12th at 2pm. There will also be relaxed performances upstairs in the theatre on 15th and 22nd at 2pm. This all chimes very well with the management's vow to make theatre at Upstairs much more accessible.
http://upstairsatthewestern.com/
Paul Towers: http://ptheatre.blogspot.co.uk/
Spamalot – book and lyrics by Eric Idle, music by John De Prez and Eric Idle
Review by: Paul Towers, 20 November 2018
A Knighton Park Amateur Operatic Society presentation
Little Theatre 20 – 24th November 2018
"this is a very funny show"
I guess you have to be into Monty Python to fully appreciate Spamalot. And I am. It was my era.
'Lovingly ripped off' from Monty Python and The Holy Grail Spamalot is a musical adventure that includes loads of Python references, lots of theatrical spoofs and a plethora of sight and music gags.
Right from the moment the music starts and before the curtain has even lifted there are giggles and guffaws to be had. Absolutely nothing is taken seriously from thereon in.
The entire production is full of Python silliness. Even the dead parrot gets a couple of appearances. There are many little sight gags which mean a whole lot to devotees but slightly less to novice Python aficionados. Nevertheless each and every one raises a laugh.
Many of the costumes are intentional jokes in themselves. There is even a guest appearance of Eric Idle as God (on film, obviously)
The stand out performance of the night was Shelley Henry. I remember seeing her in Sister Act at Curve about 4 years ago when she absolutely stole the show. Here she is wonderfully cast as The Lady In The Lake and is given full reign to showcase her amazing vocal skills.
Another great part was Martin Bell's Patsy, sidekick to King Arthur. Very much like Igor, downtrodden, subversive and getting loads of great comic lines.
A huge cast of 34 easily fill the stage of the Little Theatre and provide a professional standard show.
My sole gripe is that whereas you expect one or two audience members with weak bladders to interrupt the show you don't expect it from a member of the production crew. The guy sat in front of me was up and down like a yoyo. If he felt the need to tweak the lights or sound then he should have reserved a back row seat so he didn't disturb other audience members.
That said, this is a very funny, feel good show getting a well deserved standing ovation on the encore of Always Look On The Bright Side of Life, which the audience sang along to.
Spamalot is at The Little Theatre until Saturday 24th November.
http://www.thelittletheatre.net/
Paul Towers http://ptheatre.blogspot.co.uk/
Les Miserables based on the Victor Hugo novel.
Music by Claude-Michel Schonberg, Lyrics by Herbert Kretzmer.
Additional material by James Fenton and adapted by Trevor Nunn and John Caird
A Cameron Mackintosh production
Reviewed by Paul Towers
Curve – 3rd November to 24th November
"spectacularly emotional"
Victor Hugo's Les Miserables was set around the 1830 revolution which saw the poor rise up against King Charles X and his obvious bias towards the rich. Hugo's first novel, Notre Dame de Paris featuring the hunch back Quasimodo, was a success and in 1845 he started to write Les Miserables.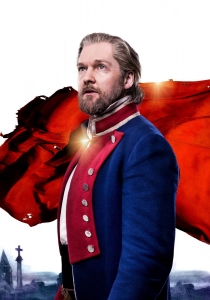 Set against the background of the uprising it is a story of the struggle between Jean Valjean and Javert and the love story of Cossette and Marius.
The curtain rises and Valjean is seen coming to the end of a 19 year sentence on the chain gang but struggles to make a living given his background. Javert vows to hunt him down and so begins a lifelong feud.
As much of the story revolves around the enmity of Valjean and Javert it is essential that the parts are cast well. In Killian Donnelly and Nic Greenshield the producers have found the perfect pairing. The other superb casting is Katie Hall's Fantine who broke the hearts of the entire audience when she expired.
Light relief is provided by Martin Ball and Sophie-Louise Dann as the disreputable inn keeper and his wife, the Thenardiers. Their rendition of Master Of The House is a Hogarth painting come to life.
The set, designed by Matt Kinley, is an incredible piece of planning; a jig saw of many pieces that fly in, turn round and drop down to form the various parts of Paris. Two three story towers frame the side of the stage and surprised us all by sliding in and forming a complete street.
Add to this the incredible back projections which not only provide scenic references but are often animated making an escape through the sewers of the city incredibly realistic. The sound and light designed by Mick Potter and Paule Constable add to the atmosphere and are especially effective in the second act depiction of the barricade massacre.
This is a spectacularly emotional musical which is celebrating its 33rd year with an international tour.
The remaining dates at Curve are sold out and your only chance of a ticket is to call the box office in the hope that someone has fallen ill. Next stop Dublin, if you fancy your chances. But, given that Curve sold out within hours of tickets being released, it is unlikely you will be lucky.
Paul Towers http://ptheatre.blogspot.co.uk/
Dream On by Kirsty Munro
Review by: Paul Towers, 08 November 2018
Upstairs @ The Western, 8 November 2018
"bonkers show."
Thursday comedy at Upstairs at The Western this week featured Edinburgh Fringe veteran Kirsty Munro.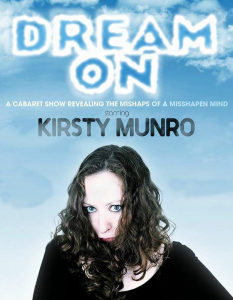 This is the (true) story of a bipolar comedian who doesn't appear to take her medication and has a meltdown during her Edinburgh run. This is a cabaret show revealing and revelling in the mishaps of a misshapen mind. Embarrassing disasters, losing touch with reality and what not to do when the love of your life just doesn't fancy you. How to serenade yourself into bed, confessional stories of pulling all nighters and things that go bonk in the night. In this show dreams will come true. Along the way we get Kirsty's Dirty Dancing with a sex doll, the frustration of a terminal singleton and a chunk of gratuitous nudity. With lots of audience interaction this bonkers show careers to a (fairly) satisfactory finale at a wedding.
Follow Kirsty's dreams on Twitter @MunroKirsty
Paul Towers: https://ptheatre.blogspot.com/2018/11/dream-on.html
Upstairs at The Western http://upstairsatthewestern.com/
Fly Half by Gary Lagden, music by Gareth Moulton
Review by: Paul Towers, 25 October 2018
Upstairs @ The Western, 25th & 26th October 2018
"a classy, emotional story of the allure of rugby."
I have to admit that I am a sucker for a Welsh accent and Gary Lagden's lyrical, almost musical use of the English language is sublime. Add to this Gareth Moulton's virtuoso guitar playing, atmospheric electric and folksy acoustic soundtrack and this play is almost like an opera.
Fly Half is, as expected, a hymn to the almost religious fervour that the game of rugby engenders in many men, especially in the working class regions of Wales.
As a young boy Darren was anxious to join his father on the terraces of his local club and fulfil his promise of becoming a fly half.
Through the deprivation that hit the town over the years rugby was the one constant, the thing that held the community together. Darren grew up and, sure enough, followed his father onto the team. Along the way he locked horns on many an occasion with the angry team bully, Barry Highland. It was the calming influence of his wife, Sian, that kept him on an even keel. Eventually there was a son, John, a boy to pass his passion for rugby on to. But, in Darren's eyes, John betrayed his rugby roots by being swayed by the corporate hold on the game. But he was still his son.
The passion and disappointment come to the fore as Darren raged about the inequity of the modern game.
Gary Lagden as Darren has written himself a great part full of humour, emotion and an obvious love for the game.
Gareth Moulton, sat at the side of the stage with just a couple of guitars, provides a beautiful background soundtrack until he switches to an acoustic instrument to sing original folksy songs as scene changes.
This is a classy, emotional story of the allure of rugby
Fly Half is at Upstairs at The Western again on Friday 26th October. Further performances and full details can be found on https://tinyurl.com/yd97afmf
Upstairs at The Western http://upstairsatthewestern.com/
Paul Towers: http://ptheatre.blogspot.co.uk/
The Frontline by Che Walker
Review by: Paul Towers, 18 October 2018
Made at Curve for Inside Out Festival
Curve, Leicester 17 – 20 October
"a great showcase"
Curve's latest innovative programme for up and coming theatre talent, New Theatre Talent, is supported by the Andrew Lloyd Webber Foundation. This is a 12 month course for young actors who want to work in a professional environment and gain the experience that that will give them. Over the past year they have learnt skills which will stand them in good stead as they go forward to become professional actors.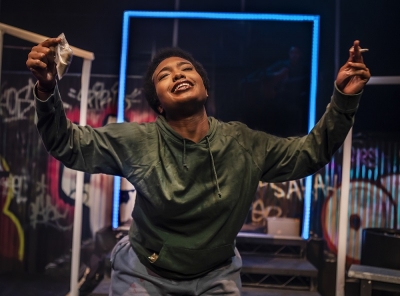 The culmination of all that work is this showcase performance of The Frontline over 4 days in Curve's Studio space.
A very talented cast of 16 actors tell 12 stories of inner city angst that happen one eventful Saturday night.
There is a clever set of neon doorways designed by Kevin Jenkins which light up in various colours as they are used. I think that better use of stage lighting would have made the various stories more significant and easier to follow. Throughout the production there are several set pieces where the narrative is expanded and explained. Unfortunately there are also several places where shouted cross talk, trying to convey chaos, means that nothing can be followed. It is just noise.
The text seems to have an identity crisis at times and can't decide whether to be street talk or a lecture, often from the same character in the same speech.
While every member of the cast performed well certain characters were given parts which allowed them to shine more than others. Simon Butler as Mordechai Thurrock, the desperate actor, had a dream part giving comic lightness amidst the dark drama. Med Janneh and Ngozi Ogon as two warring drug dealers enabled Ms Ogon to beautifully channel Kevin & Perry to great comic affect. Ngozi Ogonas also played Beth, although needing to project a little more, she sashayed splendidly across the stage as the wannabe stripper.
Overall this production gave the alumni of Curve's inaugural New Theatre Talent programme a great showcase allowing them to build characters and present them to an appreciative paying public.
The Frontline ran at Curve until Saturday 20 October.
Paul Towers: http://ptheatre.blogspot.co.uk/
Calendar Girls – The Musical by Gary Barlow & Tim Firth
Produced by David Pugh & Dafydd Rogers and The Schubert Organisation
Review by: Paul Towers, 16 October 2018
DeMontfort Hall 16 – 20 October 2018
"alternately hilarious and poignant in a single breath."
Back in 2003 Tim Firth and Juliette Towhidi wrote a film about an enterprising Women's Institute group in Yorkshire who decided to create a naked calendar to raise funds for a sofa to commemorate the husband of one of their number who had died of leukaemia.
So successful were their efforts that it inspired a film which took off, touching hearts around the world. It was a story of how friends come together in adversity, support each other and create something wonderful out of tragedy.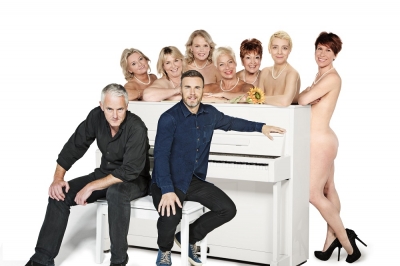 Childhood friends Tim Firth and Gary Barlow decided that the story and the film would make a good basis for a musical full of life affirming, empowering songs. And so Calendar Girls – The Musical was born and opened in Leeds in 2015. After a residency in London's West End it has been recast and is out on tour.
Tim and Gary have fashioned a show that is alternately hilarious and poignant in a single breath. The laughs start from the moment the lights go up and continue in waves til the final curtain.
Barlow's songs are a revelation. Dismissed by many as a fluffy pop song-smith his talents as a songwriter shine in this show as he both moves the story along and provides light relief in what could be, in all honesty, a depressing tale. While most of the songs wouldn't stand alone as pop singles they are excellent at doing the job they are written for. Telling a story well and with humour.
The current cast is awash with familiar faces led by one Fern Britton with Ruth Madoc, Sara Crowe, Denise Welch and Ian Mercer to mention just the faces you will know from TV. While their familiarity helps sell tickets and certainly pleased the full audience tonight they are just the tip of the iceberg of talent in this production. There are lots of good comedy performances and several of the leading ladies get their own powerhouse songs to sing.
The set is very impressive and represents a Yorkshire hillside complete with grass and a farm gate. Clever lighting transforms the stage at various times and well balanced sound ensures we hear every word without being deafened.
Calendar Girls - The Musical is at De Montfort Hall until Saturday 20th October. Limited seats are available at https://tinyurl.com/ycb9z4ar
Details of the continuing tour are at https://tinyurl.com/y9ns5bd2
Paul Towers: http://ptheatre.blogspot.co.uk/
Cilla The Musical by Jeff Pope
Review by: Paul Towers, 09 October 2018
A Bill Kenwright production
Curve Theatre Leicester 9 – 13 October 2018
"Kara Lily Hayworth takes the stage by storm."
When Priscilla Maria Veronica White, aka Cilla Black, died in Spain on 1 August 2015 many thought that that would be that. Her legacy would be 50 odd years of entertaining the great unwashed public, many hours of tapes and DVD's of her TV work, 41 singles and 35 albums. But then her enterprising son, Robert Willis, thought that her life apart from the entertaining was interesting enough to warrant a biographical drama. And so it was that Sheridan Smith donned the trademark red hair to bring her heydays to a whole new audience in 2014.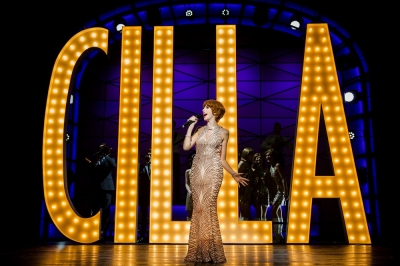 From the success of that TV mini series a full blown musical theatre show was created by the same author, Jeff Pope. Sadly Cilla didn't live to see the finished production but had given her blessing to a first draft.
The story of Cilla's early life is fairly well known to those with an interest in the 60's and 70's music scene. Spotted by Beatles' manager Brian Epstein in Liverpool's Cavern Club the office girl Priscilla White was groomed for a singing career. Besotted Bobby Willis tagged along as her road manager watching as Epstein propelled her to mega stardom. With her sights firmly set on stardom Cilla, as she was now named, strung Bobby along until she suddenly realised she couldn't manage without him and finally married him.
This perfectly illustrates how Pope and Robert Willis don't gloss over some of the less palatable aspects of Black's rise to prominence.
Like the TV series the story is of Cilla's journey up to the moment that Brian Epstein dies in mysterious circumstances leaving a contract for her very first BBC series and thence super stardom.
In the title role Kara Lily Hayworth takes the stage by storm and makes the role her own with, dare I say it, a better voice than the original. Alexander Patmore as Bobby Willis plays the second in command of her career with aplomb while Andrew Lancel's wooden acting style perfectly fits the character of controlling and manipulating Brian Epstein.
A versatile set framed by railway arches and incorporating many drop down flies takes us from the almost poverty stricken Liverpool of Cilla's childhood to the Abbey Road studios and various TV studios.
Neil Macdonald as her father, John, channels Stanley Holloway to good effect. Providing most of the onstage music are Bill Caple, Alex Harford, Joe Etherington and Michael Hawkins as Ringo Starr (very complimentary casting), George Harrison, Paul McCartney and John Lennon respectively. My only criticism would be that the band/orchestra sometimes overpowers Hayworth's voice
While many of the musical numbers are from Cilla's back catalogue there are also quite a few from other influential Mersey Beat artistes like the Beatles, Gerry and The Pacemakers and The Big Three.
This is a joyful musical that tells the story of a poor Liverpool girl who made it big by sheer talent.
Cilla is halfway through a national tour (again) and is at Curve until Saturday 13 October
Details of future tour dates can be found at http://www.cillathemusical.com/
Paul Towers http://ptheatre.blogspot.co.uk/
The Wipers Times by Ian Hislop & Nick Newman
Review by: Paul Towers, 24 September 2018
A Trademark Touring & Watermill Theatre production
Curve – 24 – 29 September 2018
"a wonderfully comic account of the genesis of satirical publishing."
Gallows humour is the laughs that come from dire circumstances. Funeral Directors are adept at defusing the sadness of their profession with laughter. So, too, are soldiers, especially those on the battlefield, as was expertly portrayed by the film M*A*S*H.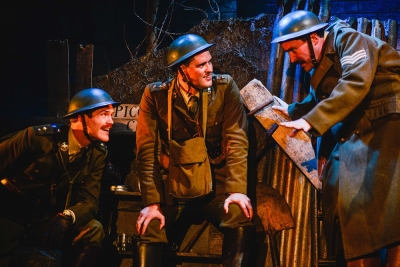 The Wipers Times is a perfect example of humour being used to offset the horrors of the first world war and the task of surviving another day.
Chancing upon an old manual printing press in amongst the bombed out buildings of Ypres, Fred Roberts and Jack Pierson, by chance having the services of ex printer Tyler to hand, resolve to utilise the dark humour of their situation and produce a morale boosting newspaper; an outlet for their emotions and a chance to satirise the high command.
Often written in those dark, wet nights between shellings and edited under fire, the prodigious output of the contributors was deemed by the authorities to be subversive and undermining of the war effort. Various commands to shut the paper down were ignored or circumvented and it continued throughout the war.
Ian Hislop and Nick Newman have written a wonderfully comic account of the genesis of satirical publishing. An hilarious mix of narrative, songs and dancing take us through the almost non-stop barrage of gunfire as the paper is compiled.
The Wipers Times paper got a fleeting name-check in the film Oh What A Lovely War and the favour is returned with fantasy sequences in homage to that show.
The wonderful programme on sale at Curve is created as a spoof copy of The Wipers Times with satirical poems, advertisements and stories.
A tight cast of 10 are lead by James Dutton and George Kemp as Roberts & Pierson. The set, designed by Dora Schweitzer, is effectively complimented by the sound and lighting effects of Steve Mayo and James Smith to recreate the appalling conditions of a Ypres trench.
The Wipers Times is on tour until December.
Full details on www.wiperstimesplay.co.uk
Paul Towers http://ptheatre.blogspot.co.uk/
Speaking After Dinner
Review by: Paul Towers, Thursday, 20 September 2018
Jack Campbell
Upstairs @ The Western, 20 Sept 2018
"2 hours of comedy."
Tonight, scheduled as Speaking After Dinner with Jack Campbell & Matt Hollins, was replaced at the last minute by Jack Campbell and Friends when Matt went down with some sort of sickness. Get well soon Mr Hollins.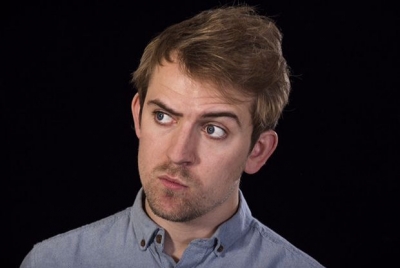 Jack Campbell MC'd the evening and kicked off with a some skilful audience interaction to warm us up on a stormy Leicester night.
Stepping into the breach were Lovdev Barpaga with a stream of one liners, some new, some old. Lovdev specialises in puns and is the current reigning UK Pun Champion. His set elicited the requisite groans and laughs from an appreciative audience.
Next up was Upstairs's resident comedy workshop tutor, Jason Neale with the tale of a disappointing visit to Twycross Zoo with his 2 year old for the first time. His style is a casual ramble through a personal experience. Hilarious.
After the interval Jack Campbell was back with his experiences on being obsessed with the Wii and golfing.
Danny Clives was a new face to me and had a very self deprecating way of illustrating his perceived shortcomings while trying desperately to get a girlfriend
Finally there was Freddie Ferrell, a self proclaimed fat bearded bloke who still can't believe he has found the love of his life (apart from Big Macs)
This was 2 hours of comedy work in progress and more than worth the £5 entrance fee.
Paul Towers http://ptheatre.blogspot.co.uk/
Upstairs at The Western http://upstairsatthewestern.com/
Cats by Andrew Lloyd Webber & TS Eliot
Review by: Paul Towers, 18 September 2018
Leicester Theatre Group presentation
Little Theatre 18 – 22nd September 2018
"hugely talented cast with the confidence of a professional troupe."
Leicester Theatre Group is a Newfoundpool based non-profit organisation created to provide young people aged 11 to 18 with the opportunity to get involved in musical theatre and perform in one of their regular West End style productions, usually at The Little Theatre or the Sue Townsend Theatre. Last year they did Les Miserables and this year it is the turn of Cats.
A huge cast of 42 bring TS Eliot's tales of Jellicle Cats to life on a set designed by Neil Allan that resembles a derelict yard. Ranged round the back is slatted fencing which cleverly allows the various kittens and cats to roam up and down the gantries behind giving the illusion of a community of feral felines.
Director Zoe Curlett is an experienced West End performer and brings a mainstream sensibility to the production. Like Bob Fosse, Gillian Lynne's style of choreography is instantly identifiable and Jessica Vaughan has wisely not deviated far from the original.
In such a large production there is plenty of room for individuals to shine and Maev Wood's Grizabella singing Memories broke everyone's heart.
This hugely talented cast danced and sang with the confidence of a professional troupe.
Cats is at The Little Theatre until Saturday 22nd September but is sold out. Call the box office for any returns.
Paul Towers http://ptheatre.blogspot.co.uk/
Review by: Paul Towers, 12 September 2018
Ian Fleming's Chitty Chitty Bang Bang by Richard & Robert Sherman, book by Jeremy Sams
A Leicester Amateur Operatic Society production
Haymarket Theatre 11 – 15 September 2018
"a spectacularly successful evening's entertainment"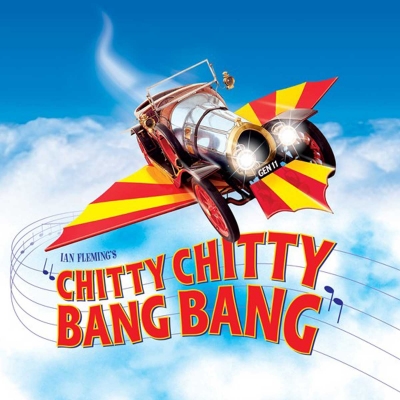 The Leicester Amateur Operatic Society (LAOS) has a reputation stretching back to 1890 for putting on professional quality shows using amateur performers. Their back catalogue covers a wide range of classics and modern shows. This year's production, Chitty Chitty Bang Bang, took to the stage in the West End in 2003 and on Broadway in 2005. The touring version ran from 2015 to 2017.
Based on the 1968 film this musical is the story of a single dad bringing up two children and home schooling them alongside their grandfather. The children persuade him to buy a wreck of a car that they have been playing with in a neighbour's back yard. This turns out to be a somewhat famous old racing car which, unbeknownst to them, possesses magical powers. This is why the evil Baron Bombast wants it. Caractacus, the children, grandpa and Truly Scrumptious join forces to defeat the Baron, evade the Child Catcher and free the children of the kingdom.
Unexpectedly written by James Bond creator Ian Fleming and originally filmed by James Bond auteur Cubby Broccoli it was adapted for the screen by Roald Dahl (no surprise there).
As expected LAOS fielded a strong cast led by Darryl Clarke as an energetic Caractacus Potts, Nicole Webb as Truly Scrumptious with Harry Rooney and Rosie Oldman as the children. The scene stealer of the night was Rory, playing Edison the dog. Of course the outright star of the night is the car. And yes it does fly
With loads of sets, lots of back drops and a huge cast of 45 you would expect this to be a spectacularly successful evening's entertainment. While the cast sing and dance up a storm; the sets are wheeled on and off mostly without too much noise. However all the hard work of the cast and crew was spoiled by an appallingly bad and inefficient sound system. All the way through the production the sound either cut out, faded down or blasted out feedback. The providers of the audio system should be ashamed of themselves. All credit should go to the cast who carried on without missing a beat. Professional performers in every way. Hopefully these problems can be rectified.
Paul Towers
Review by: Paul Towers, 08 May 2018
Love From a Stranger by Agatha Christie & Frank Vosper
A Fiery Angel & Derngate Northampton production
Curve 8 – 12 May 2018
"full of red herrings and plot twists."
When you see Dame Agatha Christie's name on a book or play you can be sure that the story will be full of red herrings and plot twists. There will also be plenty of plot holes, but that doesn't matter as the tension is ramped up.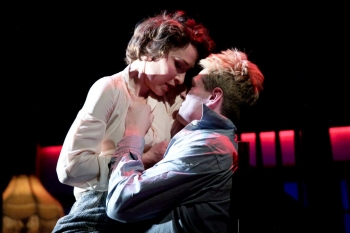 Love From a Stranger started off as a short story called Philomel Cottage, part of The Listerdale Mystery collection. Although Christie went on to write it up as a stage play it was never performed. Actor Frank Vosper, eyeing up a potential lead for himself, created a much tighter version which was a hit in London's West End in 1936.
In the intervening years there have been sundry radio and film versions but this version has brought it bang up to date with technological innovations.
Ostensibly a fairly run of the mill drawing room comedy in the first half, two friends, Mavis and Cecily, have won £50,000 on a sweepstake. A life changing amount in the 1930's. Mavis plans to travel while cautious Cecily is finally able to marry her dull but reliable fiancée of 5 years, Michael. As a result she is looking to rent out her flat. A strange young man, Bruce Lovell (Sam Frenchum), arrives to potentially rent the flat and Cecily (Helen Bradbury) falls head over heels in love immediately.
The second half ramps up the tension as Bruce becomes more and more controlling and finally reveals his hand.
All this would be very standard Agatha Christie, played out in a hundred am dram church halls the length of the country. But here is where Director Lucy Bailey has surprised us all. Gathered around her are designer Mike Britton, lighting designer Oliver Fenwick and sound designed Richard Hammarton. Together they have come up with an innovative set which slides back and forth, much like watching a widescreen film on a regular TV. This enables us to see beyond the immediate stage. Creative lighting and sound really ramp up the psychological tension. Then, just when you think there are no more tricks to keep us on the edge of our seats, a room at the top of the stairs is revealed enabling Bruce to watch and overhear the goings on downstairs. The final plot twists caught us all unawares and gave a blood tingling final curtain.
Love From a Stranger is at Curve until Saturday
http://ptheatre.blogspot.co.uk/
The Crucible by Arthur Miller
Review by: Paul Towers, 03 May 2018
A Curve & DeMontfort University co-production
Curve Studio 3 – 5 May 2018
'A damning indictment of the confluence of ignorance, bigotry and religious fervour.'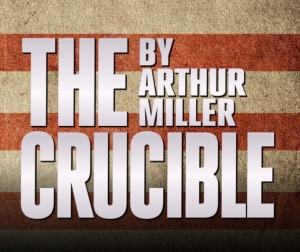 Once again Curve has provided facilities and mentoring to De Montfort University's drama and performing arts students to allow them to experience performing before a paying audience in a professional theatre.
This year's offering is Arthur Miller's The Crucible. A damning indictment of the confluence of ignorance, bigotry and religious fervour; a cesspool of intolerance that is all too common even if these supposed enlightened times.
Set at the height of the Salem Witch Trials of 1692, a time when the mere whisper of something out of the ordinary could be easily twisted to suit the agenda of those looking for witchcraft at every turn. Miller wrote it in 1953 as a savage satire on the ongoing McCarthy hunt for 'reds under the bed' where yet again the merest hint of non-conformity was twisted to expose so called communist leanings. The paranoia of the Salem Witch Trials has been repeated ad nauseum throughout history and invariably used to explain things not understood.
Played out on a sparse set of four huge suspended blocks, the space between them symbolising the cross of the supposedly welcoming church, the few props are brought on and off by hand. Creative lighting changes the time of day and the mood of the action. A largely subdued soundtrack subtly signals impending crises.
The cast of fairly inexperienced actors do a great job but a couple stand out as ones to watch in the future. Ransford Boi as John Proctor has great stage presence and good clear diction and projection; Calum Harris as Deputy Governor Danforth holds centre stage for most of the second half and has the personality to do so.
The Crucible is on at Curve until Saturday www.curveonline.co.uk
Paul Towers: http://ptheatre.blogspot.co.uk/
Review by: Paul Towers, Tuesday, 01 May 2018
The Little Mermaid by David Nixon OBE
A Northern Ballet production with music by Sally Beamish
Curve until 5th May 2018
'Abigail Prudames as Marilla is a beautifully expressive dancer.'
As part of its 2018 national tour Northern Ballet returned to Leicester's Curve with this new production of The Little Mermaid. Based in Hans Christian Andersen's original fairytale David Nixon has eschewed the saccharine of Disney's version and gone for the darker, more moralistic original.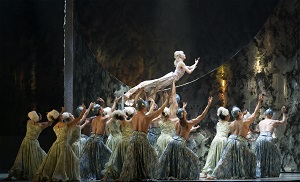 Marilla, Abigail Prudames, is the youngest daughter of Lord of the Sea, Lyr, danced by Matthew Topliss. Marilla's older sisters are deemed old enough to venture up to the surface to witness the wonders of the land but she must stay in the safety of the deep sea. Upon their return they discard a locket they have found and Marilla picks it up, opens it and falls in love with the human pictured inside. Bothered by her obsession with the human her father, Lyr, conjures up a storm which wrecks the boat of the sailors above. Marilla rushes to the surface and manages to rescue the almost dead sailor of her locket, Prince Adair (Joseph Taylor). Having fallen in love with Adair Marilla convinces Lyr to give her a potion to allow her to live on land. The downside is that once she has lost her tail she will be in permanent pain in her legs and she will lose her beautiful singing voice. Suffice to say this ultimately ends in tragedy thus proving that you should be very careful what you wish for.
The set is beautiful; a pair of huge asymmetrical walls that are turned around and around to provide both shore rocks and water walls. This effect is greatly enhanced by creative lighting. Under the sea are some marvellous jellyfish and large fish on poles.
The music, provided by a live orchestra and singer Stephanie Irvine as the voice of the mermaid, is original and especially created for this piece. While most of it was gently complimentary of the dancing there were times when portentous bass drum rolls were inappropriate.
When it comes to the dancers Abigail Prudames' Marilla, the titular Little Mermaid, is a beautifully expressive dancer whose talent shines throughout the piece. She is superbly complimented by Joseph Taylor as Adair and Matthew Topliss as Lyr. Every one of the ensemble are a credit to the company.
This is a beautifully performed new ballet that will, I am sure, remain in their repertoire for many years to come.
Full details of the tour can be found at www.northernballet.com
Paul Towers: http://ptheatre.blogspot.co.uk/
Pals by Jason Gerdes, inspired by real war diaries
Review by: Paul Towers, Thursday, 12 April 2018
A NorthSouth Theatre production directed by Jason Squibb
Upstairs @ The Western, 12 & 13th April 2018
"based on real war diaries."
World War One was supposed to be the war to end all wars. But all it did was decimate the country's youth as they were shipped out in increasing numbers to the French trenches to be used as cannon fodder.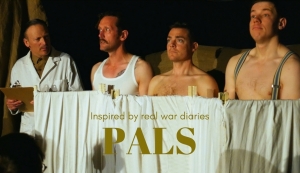 Pals is based on real war diaries and is the story of three mates, two related by marriage, who buy into the romance of going off to a foreign country to fight the Bosch. It will all be over by Christmas, they were told.
Of course we all know this was, at best, wistful thinking, at worst, blatant lies. The hostilities dragged on for 4 long years and some 16 million people died and another 20 million were injured.
But our three comrades shipped out blissful in their ignorance. That naivety was soon dashed as they faced the horrors of the trenches. As boyhood friends they did their best to see each other through the horrors, not always successfully.
NorthSouth's production skilfully blends comedy with the privations they had to endure, illustrating the British stiff upper lip that has seen us through so many things in history.
The cast of four take us through the optimism of the youngsters prior to signing up right up to the devastating reality of war, any war. The acting is superb; in Upstairs' intimate space the actors' emotions are plain to see. The set, a trench, is so realistic you can almost see the rats and smell the latrines. There is also a great ambient soundtrack of enemy bombardment, a non stop reminder that death is just over the top of the trench. Lighting is used to great effect as shells continue to rain down.
Pals is on again on Friday 13th April and there are a few seats left. Highly recommended.
Full details of future tours can be found at www.northsouththeatre.weebly.com
Upstairs at The Western http://upstairsatthewestern.com/
Paul Towers http://ptheatre.blogspot.co.uk/
The Changing Rooms
7th March 2018
The Changing Room by Chris Bush and Shooting Truth by Molly Davies
Directed by Paul Rogers & Kieran Vyas respectively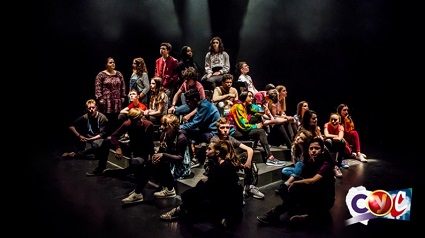 A Made at Curve production in conjunction with National Theatre Connections
Review by: Paul Towers, 06 March 2018
Curve Studio, Leicester 6 - 7 March 2017
'immensely talented youngsters'
This was a double bill of productions under the umbrella of the National Theatre Connections initiative which is one of the UK's largest celebrations of youth theatre whereby plays are commissioned for and about young people by contemporary playwrights. These plays are then performed in schools and theatre groups all over UK and Ireland by young performers.
The Changing Room was the more contemporary and experimental piece. Set in and around a swimming pool, the accomplished ensemble cast attempted to vocalise through spoken word and song what it is to be a teenager on the brink of adulthood. Each actor was given a chance to shine with various frustrating moans about being misunderstood. At the same time they were trying to elbow their way into a place in their society. As everyone who has gone through that (and we all did) it is a very confusing phase in life. But, we do all come out the other side and, in retrospect, the angst is worth it.
Each and every one of those on stage gave 100% and, considering this was their first public performance, did a great job.
Shooting Truth was completely different. Taking some inspiration from The Blair Witch Project this was a clever blend of past and present as a school film crew set out to make a movie about a witch called Freya from the 17th century. The present was frequently funny while the past got progressively scary as bigotry reared its ugly head.
As the tale progressed past and present got more and more entangled until they clashed horrifically. Once again the talented cast (completely different from the first piece) were terrific, especially the lad that played the film director.
Again Curve Young Company have proved what an immensely talented young community Curve continues to nurture.
Paul Towers: http://ptheatre.blogspot.co.uk