Reviews
Pals by Jason Gerdes, inspired by real war diaries
Review by: Paul Towers, Thursday, 12 April 2018
A NorthSouth Theatre pr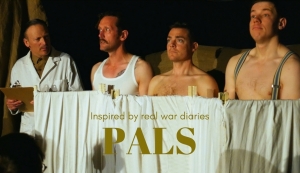 oduction directed by Jason Squibb
Upstairs @ The Western, 12 & 13th April 2018
"based on real war diaries."
World War One was supposed to be the war to end all wars. But all it did was decimate the country's youth as they were shipped out in increasing numbers to the French trenches to be used as cannon fodder.
Pals is based on real war diaries and is the story of three mates, two related by marriage, who buy into the romance of going off to a foreign country to fight the Bosch. It will all be over by Christmas, they were told.
Of course we all know this was, at best, wistful thinking, at worst, blatant lies. The hostilities dragged on for 4 long years and some 16 million people died and another 20 million were injured.
But our three comrades shipped out blissful in their ignorance. That naivety was soon dashed as they faced the horrors of the trenches. As boyhood friends they did their best to see each other through the horrors, not always successfully.
NorthSouth's production skilfully blends comedy with the privations they had to endure, illustrating the British stiff upper lip that has seen us through so many things in history.
The cast of four take us through the optimism of the youngsters prior to signing up right up to the devastating reality of war, any war. The acting is superb; in Upstairs' intimate space the actors' emotions are plain to see. The set, a trench, is so realistic you can almost see the rats and smell the latrines. There is also a great ambient soundtrack of enemy bombardment, a non stop reminder that death is just over the top of the trench. Lighting is used to great effect as shells continue to rain down.
Pals is on again on Friday 13th April and there are a few seats left. Highly recommended.
Full details of future tours can be found at www.northsouththeatre.weebly.com
Upstairs at The Western http://upstairsatthewestern.com/
Paul Towers http://ptheatre.blogspot.co.uk/
The Changing Rooms
7th March 2018
The Changing Room by Chris Bush and Shooting Truth by Molly Davies
Directed by Paul Rogers & Kieran Vyas respectively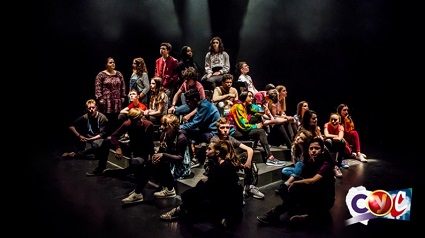 A Made at Curve production in conjunction with National Theatre Connections
Review by: Paul Towers, 06 March 2018
Curve Studio, Leicester 6 - 7 March 2017
'immensely talented youngsters'
This was a double bill of productions under the umbrella of the National Theatre Connections initiative which is one of the UK's largest celebrations of youth theatre whereby plays are commissioned for and about young people by contemporary playwrights. These plays are then performed in schools and theatre groups all over UK and Ireland by young performers.
The Changing Room was the more contemporary and experimental piece. Set in and around a swimming pool, the accomplished ensemble cast attempted to vocalise through spoken word and song what it is to be a teenager on the brink of adulthood. Each actor was given a chance to shine with various frustrating moans about being misunderstood. At the same time they were trying to elbow their way into a place in their society. As everyone who has gone through that (and we all did) it is a very confusing phase in life. But, we do all come out the other side and, in retrospect, the angst is worth it.
Each and every one of those on stage gave 100% and, considering this was their first public performance, did a great job.
Shooting Truth was completely different. Taking some inspiration from The Blair Witch Project this was a clever blend of past and present as a school film crew set out to make a movie about a witch called Freya from the 17th century. The present was frequently funny while the past got progressively scary as bigotry reared its ugly head.
As the tale progressed past and present got more and more entangled until they clashed horrifically. Once again the talented cast (completely different from the first piece) were terrific, especially the lad that played the film director.
Again Curve Young Company have proved what an immensely talented young community Curve continues to nurture.
Paul Towers: http://ptheatre.blogspot.co.uk