Reviews
Review by: Paul Towers, 08 May 2018
Love From a Stranger by Agatha Christie & Frank Vosper
A Fiery Angel & Derngate Northampton production
Curve 8 – 12 May 2018
"full of red herrings and plot twists."
When you see Dame Agatha Christie's name on a book or play you can be sure that the story will be full of red herrings and plot twists. There will also be plenty of plot holes, but that doesn't matter as the tension is ramped up.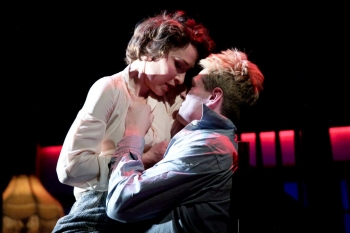 Love From a Stranger started off as a short story called Philomel Cottage, part of The Listerdale Mystery collection. Although Christie went on to write it up as a stage play it was never performed. Actor Frank Vosper, eyeing up a potential lead for himself, created a much tighter version which was a hit in London's West End in 1936.
In the intervening years there have been sundry radio and film versions but this version has brought it bang up to date with technological innovations.
Ostensibly a fairly run of the mill drawing room comedy in the first half, two friends, Mavis and Cecily, have won £50,000 on a sweepstake. A life changing amount in the 1930's. Mavis plans to travel while cautious Cecily is finally able to marry her dull but reliable fiancée of 5 years, Michael. As a result she is looking to rent out her flat. A strange young man, Bruce Lovell (Sam Frenchum), arrives to potentially rent the flat and Cecily (Helen Bradbury) falls head over heels in love immediately.
The second half ramps up the tension as Bruce becomes more and more controlling and finally reveals his hand.
All this would be very standard Agatha Christie, played out in a hundred am dram church halls the length of the country. But here is where Director Lucy Bailey has surprised us all. Gathered around her are designer Mike Britton, lighting designer Oliver Fenwick and sound designed Richard Hammarton. Together they have come up with an innovative set which slides back and forth, much like watching a widescreen film on a regular TV. This enables us to see beyond the immediate stage. Creative lighting and sound really ramp up the psychological tension. Then, just when you think there are no more tricks to keep us on the edge of our seats, a room at the top of the stairs is revealed enabling Bruce to watch and overhear the goings on downstairs. The final plot twists caught us all unawares and gave a blood tingling final curtain.
Love From a Stranger is at Curve until Saturday
http://ptheatre.blogspot.co.uk/
The Crucible by Arthur Miller
Review by: Paul Towers, 03 May 2018
A Curve & DeMontfort University co-production
Curve Studio 3 – 5 May 2018
'A damning indictment of the confluence of ignorance, bigotry and religious fervour.'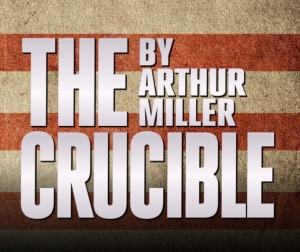 Once again Curve has provided facilities and mentoring to De Montfort University's drama and performing arts students to allow them to experience performing before a paying audience in a professional theatre.
This year's offering is Arthur Miller's The Crucible. A damning indictment of the confluence of ignorance, bigotry and religious fervour; a cesspool of intolerance that is all too common even if these supposed enlightened times.
Set at the height of the Salem Witch Trials of 1692, a time when the mere whisper of something out of the ordinary could be easily twisted to suit the agenda of those looking for witchcraft at every turn. Miller wrote it in 1953 as a savage satire on the ongoing McCarthy hunt for 'reds under the bed' where yet again the merest hint of non-conformity was twisted to expose so called communist leanings. The paranoia of the Salem Witch Trials has been repeated ad nauseum throughout history and invariably used to explain things not understood.
Played out on a sparse set of four huge suspended blocks, the space between them symbolising the cross of the supposedly welcoming church, the few props are brought on and off by hand. Creative lighting changes the time of day and the mood of the action. A largely subdued soundtrack subtly signals impending crises.
The cast of fairly inexperienced actors do a great job but a couple stand out as ones to watch in the future. Ransford Boi as John Proctor has great stage presence and good clear diction and projection; Calum Harris as Deputy Governor Danforth holds centre stage for most of the second half and has the personality to do so.
The Crucible is on at Curve until Saturday www.curveonline.co.uk
Paul Towers: http://ptheatre.blogspot.co.uk/
Review by: Paul Towers, Tuesday, 01 May 2018
The Little Mermaid by David Nixon OBE
A Northern Ballet production with music by Sally Beamish
Curve until 5th May 2018
'Abigail Prudames as Marilla is a beautifully expressive dancer.'
As part of its 2018 national tour Northern Ballet returned to Leicester's Curve with this new production of The Little Mermaid. Based in Hans Christian Andersen's original fairytale David Nixon has eschewed the saccharine of Disney's version and gone for the darker, more moralistic original.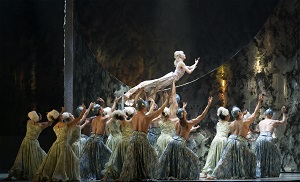 Marilla, Abigail Prudames, is the youngest daughter of Lord of the Sea, Lyr, danced by Matthew Topliss. Marilla's older sisters are deemed old enough to venture up to the surface to witness the wonders of the land but she must stay in the safety of the deep sea. Upon their return they discard a locket they have found and Marilla picks it up, opens it and falls in love with the human pictured inside. Bothered by her obsession with the human her father, Lyr, conjures up a storm which wrecks the boat of the sailors above. Marilla rushes to the surface and manages to rescue the almost dead sailor of her locket, Prince Adair (Joseph Taylor). Having fallen in love with Adair Marilla convinces Lyr to give her a potion to allow her to live on land. The downside is that once she has lost her tail she will be in permanent pain in her legs and she will lose her beautiful singing voice. Suffice to say this ultimately ends in tragedy thus proving that you should be very careful what you wish for.
The set is beautiful; a pair of huge asymmetrical walls that are turned around and around to provide both shore rocks and water walls. This effect is greatly enhanced by creative lighting. Under the sea are some marvellous jellyfish and large fish on poles.
The music, provided by a live orchestra and singer Stephanie Irvine as the voice of the mermaid, is original and especially created for this piece. While most of it was gently complimentary of the dancing there were times when portentous bass drum rolls were inappropriate.
When it comes to the dancers Abigail Prudames' Marilla, the titular Little Mermaid, is a beautifully expressive dancer whose talent shines throughout the piece. She is superbly complimented by Joseph Taylor as Adair and Matthew Topliss as Lyr. Every one of the ensemble are a credit to the company.
This is a beautifully performed new ballet that will, I am sure, remain in their repertoire for many years to come.
Full details of the tour can be found at www.northernballet.com
Paul Towers: http://ptheatre.blogspot.co.uk/
Pals by Jason Gerdes, inspired by real war diaries
Review by: Paul Towers, Thursday, 12 April 2018
A NorthSouth Theatre production directed by Jason Squibb
Upstairs @ The Western, 12 & 13th April 2018
"based on real war diaries."
World War One was supposed to be the war to end all wars. But all it did was decimate the country's youth as they were shipped out in increasing numbers to the French trenches to be used as cannon fodder.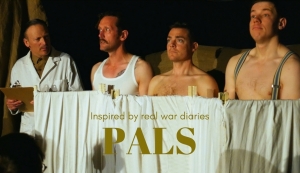 Pals is based on real war diaries and is the story of three mates, two related by marriage, who buy into the romance of going off to a foreign country to fight the Bosch. It will all be over by Christmas, they were told.
Of course we all know this was, at best, wistful thinking, at worst, blatant lies. The hostilities dragged on for 4 long years and some 16 million people died and another 20 million were injured.
But our three comrades shipped out blissful in their ignorance. That naivety was soon dashed as they faced the horrors of the trenches. As boyhood friends they did their best to see each other through the horrors, not always successfully.
NorthSouth's production skilfully blends comedy with the privations they had to endure, illustrating the British stiff upper lip that has seen us through so many things in history.
The cast of four take us through the optimism of the youngsters prior to signing up right up to the devastating reality of war, any war. The acting is superb; in Upstairs' intimate space the actors' emotions are plain to see. The set, a trench, is so realistic you can almost see the rats and smell the latrines. There is also a great ambient soundtrack of enemy bombardment, a non stop reminder that death is just over the top of the trench. Lighting is used to great effect as shells continue to rain down.
Pals is on again on Friday 13th April and there are a few seats left. Highly recommended.
Full details of future tours can be found at www.northsouththeatre.weebly.com
Upstairs at The Western http://upstairsatthewestern.com/
Paul Towers http://ptheatre.blogspot.co.uk/
The Changing Rooms
7th March 2018
The Changing Room by Chris Bush and Shooting Truth by Molly Davies
Directed by Paul Rogers & Kieran Vyas respectively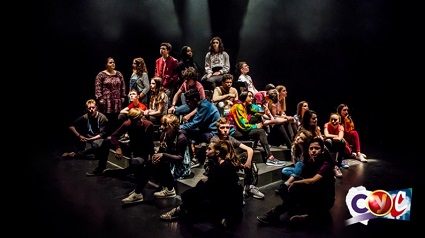 A Made at Curve production in conjunction with National Theatre Connections
Review by: Paul Towers, 06 March 2018
Curve Studio, Leicester 6 - 7 March 2017
'immensely talented youngsters'
This was a double bill of productions under the umbrella of the National Theatre Connections initiative which is one of the UK's largest celebrations of youth theatre whereby plays are commissioned for and about young people by contemporary playwrights. These plays are then performed in schools and theatre groups all over UK and Ireland by young performers.
The Changing Room was the more contemporary and experimental piece. Set in and around a swimming pool, the accomplished ensemble cast attempted to vocalise through spoken word and song what it is to be a teenager on the brink of adulthood. Each actor was given a chance to shine with various frustrating moans about being misunderstood. At the same time they were trying to elbow their way into a place in their society. As everyone who has gone through that (and we all did) it is a very confusing phase in life. But, we do all come out the other side and, in retrospect, the angst is worth it.
Each and every one of those on stage gave 100% and, considering this was their first public performance, did a great job.
Shooting Truth was completely different. Taking some inspiration from The Blair Witch Project this was a clever blend of past and present as a school film crew set out to make a movie about a witch called Freya from the 17th century. The present was frequently funny while the past got progressively scary as bigotry reared its ugly head.
As the tale progressed past and present got more and more entangled until they clashed horrifically. Once again the talented cast (completely different from the first piece) were terrific, especially the lad that played the film director.
Again Curve Young Company have proved what an immensely talented young community Curve continues to nurture.
Paul Towers: http://ptheatre.blogspot.co.uk